I have two fur vests and I love this black one the best. I got it for a steal at LOFT a couple of seasons back and haven't seen anything like it since.
Shopping satisfaction at its finest, my friends.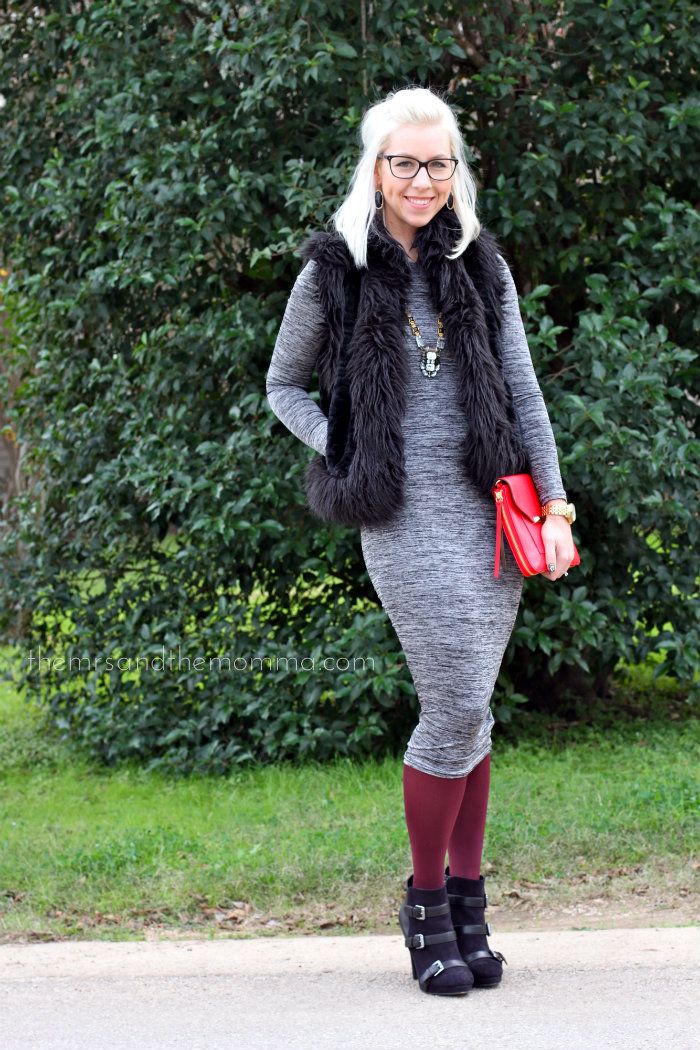 What I'm Wearing >>>
Dress: c/o Bank Fashion, vest (option): LOFT, tights: H&M, booties (option): Target, necklace and clutch (exact): Stella & Dot, glasses (exact): Bonlook, earrings (exact): Kendra Scott
So funny story about trying to teach my daughters a lesson on modesty...
When we got home from church, I went upstairs to change and as I was pulling this dress up, I had folded it up where it looked like a very short mini-skirt. I caught my reflection and thought, huh...I think I'll go ask my girls if they think a dress like this would be appropriate...a little test.
So I sauntered out of the bedroom dressed as above but with with skirt barely covering my rear. My second daughter was my first victim.
"Hey Riley, if you had a dress that was this short on you, do you think it would be okay to wear it outside the house?"
"Yes, because you have tights on," she quickly answered after hardly glancing my way.
Dang it. She got me on a technicality! Not that I'd ever let them wear something that short, but it seems as the ripe age of 6, that she's already caught on to the idea that tights do in fact give you some leeway when dressing.
On to the next one.
"What do think about this dress, Tyler Bree? Would mommy be okay with you wearing something this short?"
She sensed it was a trick question.
"Um...no, I don't think so. But it covers your business, Momma....so maybe?"
Ha, I got her.
"No it is not okay! This would never be allowed and it's completely inappropriate....and by the way girls....you need to learn to keep your ankles crossed when sitting in a chair...and just you try to wear something like this and you'll have to deal with your daddy...and Jesus and Santa are watching you!"
Okay, maybe I exaggerate on that last part, but it all went through my mind and I would have totally finished my rant out loud had they paid me any mind. Fortunately for us, modesty isn't yet an issue...and I hope it won't ever be, as long as we teach them young what is appropriate and what is not.
(And just to mention, in case my parenting skills may be portrayed as less than mature...my teaching moment was mostly for my own amusement and we do address these types of topics in a more rational manner as a family....so there.)
Oh, life with daughters. I better get ready.
linking up with Stylelixir, Shanna, WIWW