Hi there!!! I'm super excited about our third featured must-have in the Summer Style Series today, as this one might be my favorite. If you missed the others, here are
featured look 1
and
featured look 2
in the style series for moms on-the-go.
If you're like me, I think most of us moms fall under two dress styles in our everyday lives as we shuttle kids around, run errands, attend meetings, shopping, etc. We either slum it up with yoga pants and a tshirt ("Who cares what I look like...I won't see anyone I know." Except, I ALWAYS see people I know!), OR we make an effort to look put together with some denim, a cute top, and call it good. Well friends, the latter is where we find today's featured look...flowy tops. These aren't just any tops or tunics...I'm specifically referring to light, airy, sometimes sheer, tailored tops that are the perfect weight and look for summer. They're the blouses, that when thrown on with some jeans and cute shoes, look like you nailed it in the getting dress category. Flowy tops are fail-proof and require next to zero pre-meditation.
Check out my style tips and how to wear this easy-breezy look below: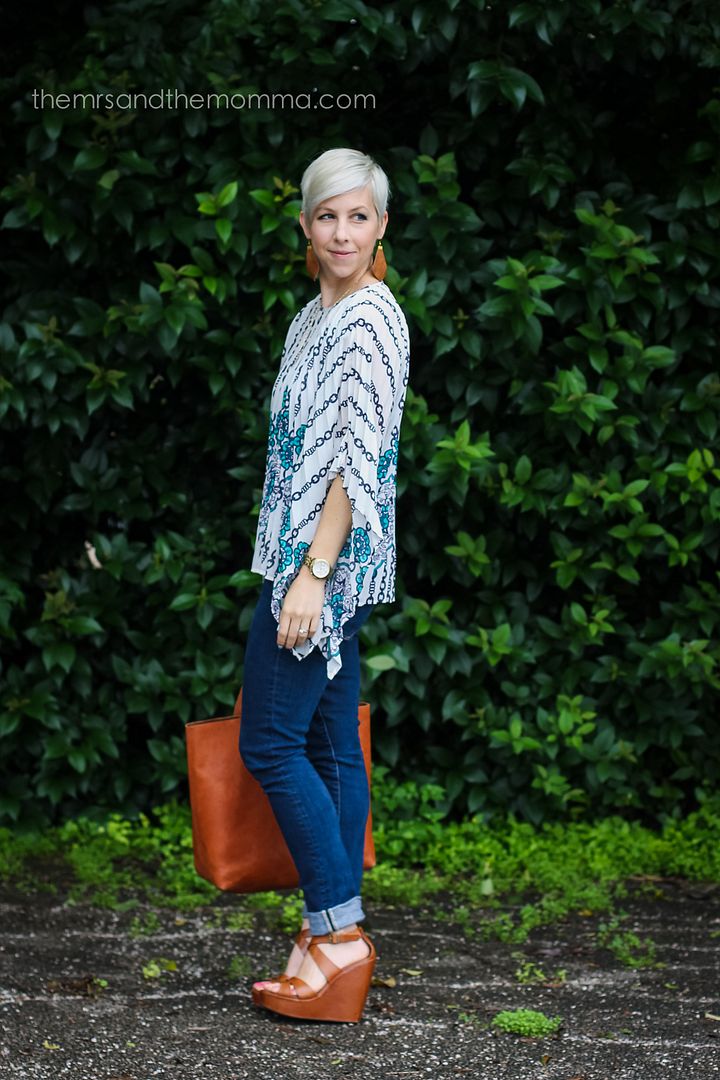 How To Wear:
>>> As mentioned above, the easiest way to wear a flowy top is with denim...any color jeans work great with this look!
>>> Other simple, yet laid back pairings are shorts (such as cut offs) and leggings (example I wore
HERE
).
>>> Depending on how dressed up you want to go, flowy tops can be paired with sandals, flats, heels, wedges...really anything!
>>> If the flowy top is a little too shapeless for you, pair a thin belt with it to cinch in the waist.
>>> To really dress up your flowy top, wear it with a pencil skirt (either tucked in or belted), heels, and some killer jewelry. (example I wore
HERE
)


Style Tips:
>>> Flowy tops are forgiving (comfortable) without looking slouchy, which makes them even more versatile. Go ahead and add more than a few to your closet to grab whenever.
>>> For expectant mommas early in a pregnancy, these tops are the best for hiding a little bump.
>>> Pattern-wise, look for prints of floral, geometric, and solids with a bit of detail (such as lace).
>>> As you add flowy blouses to your wardrobe, keep in mind how well they'll transition to fall/winter simply by adding a blazer or cardigan and riding boots!
Outfit Details:
blouse // c/o Tiaras
jeans // Gap (currently on sale)
wedges // Korkease via Nordstrom
bag // Madewell via Nordstrom
earrings // c/o Lavish Leathers
Thanks to Tiaras boutique for partnering with me for the Summer Style Series!!! We've got a couple more looks to finish out the series...stay posted! Local readers, check out their many other flowy blouse options they have in-store...here's a couple of my favorites I grabbed a shot of:
Follow me on: Instagram|

Twitter

|

Facebook

|

Pinterest

|

Bloglovin