You guys...if you've read this blog for any amount of time, it's pretty obvious that I have a thing for
CAbi
. Almost every style post I write involves some piece of CAbi clothing (
most recent HERE
). So naturally, when thinking of what to wear to all the holiday get-togethers, events, and parties coming up in the next several weeks, I plan to reach for my CAbi. Of course.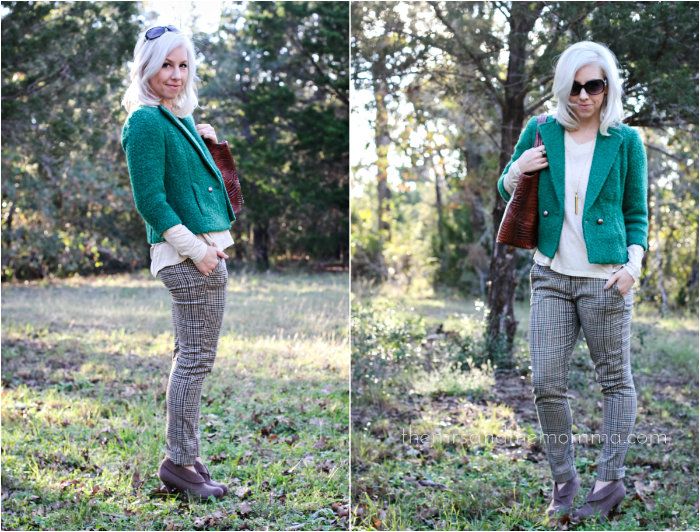 This week, I'll be showing a few looks from their fall/winter collection that would be the perfect choices for your holiday wear. Since the holidays are such a busy time of year,
CAbi
is such a fun and efficient way (no fighting dressing room crowds) to get some shopping done...and what makes it even better is that you get to shop with friends!
This is what I wore to Thanksgiving last week and cannot wait to style this gorg emerald jacket again....and these slim-fitting pants are so on trend right now. This
CAbi
outfit would be ideal to wear to a family holiday function, cocktails with coworkers, and basically anything that falls under the "casual chic" category. I'm a firm believer that it's always best to be a bit overdressed...for ANY occasion.
What I'm Wearing:
-Ivy Jacket
-Gold Slouch Tee
-Plaid Hatter Cropped Pants
*Disclaimer: I was provided the clothing I'm wearing by CAbi...All thoughts and opinions are my own.