Happy Friday y'all! Can you believe a week from today will be November???
That's just plain crazy to me. My mind still thinks it's mid-September at the latest.
Last night, my momma and I had a little date night of shopping and eating....I've haven't seen her much lately, so I've really missed her...it was super great. As we were perusing through H&M, I looked around and noticed there was ZERO color. I mean, the faintest hint of mauve-ish/burgundy maybe...but nearly everything was neutrals! I don't normally lean towards neutrals, but they're everywhere right now, and I kind love it!
(side note: I'm not a prints person either...solids all the way, man!)
Today's

BEST OF Friday Style

spotlights some great neutral outfits from the week...showing how muted colors of cream, gray, brown, black, and tan can give an effortlessly modern but classic vibe to any outfit.
And can I just say....my favorite pairing of neutrals is tan with gray...so chic in my opinion!
What's YOUR favorite way to pair neutrals together???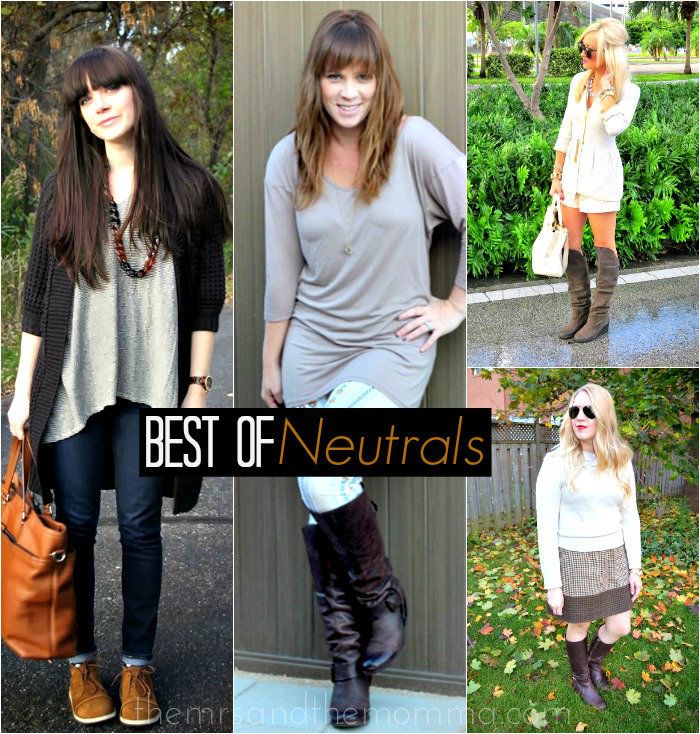 Clockwise from top right: A Spoonful of Style, Sparkle & Shine On, Rags To Stitches, Freckled Italian
Here's how I wore neutrals last night for our little mother/daughter night out:
And now for the link up....Want to Join???
Here are my requests:
1. Link up ANY and ALL style-related posts....these can be curated fashion posts, outfit posts, etc.
2. Please be a follower of
The Mrs. & The Momma
in some way.
3. Grab a button or link back to my blog somewhere in your post so that your readers get to what you're referring and because it's nice manners.
4. Link up your post with your blog name, not your post title.
5. If you'd like to be a host of The BEST OF link up, please
email me
.