Hey y'all! Happy Monday!!!
Today I'm in part panic mode, part excited mode, and part get-down-to-business mode. Basically, I haven't even started preparing for my trip to NYC, and I leave at the crack of dawn tomorrow. Sheesh!
One thing that I do know is one of the outfits I'll probably wear from
Banana Republic
. This got me looking at their site, and I realized they have some serious Fall finds right now, including on-trend pieces such as
leather accents
,
cobalt blue
, and
peplum
! And if you use the code
BRCLUE40, you can get 40% off
online with free shipping if over $50. I'd say that's a no-brainer right there! Here are a few of my best picks: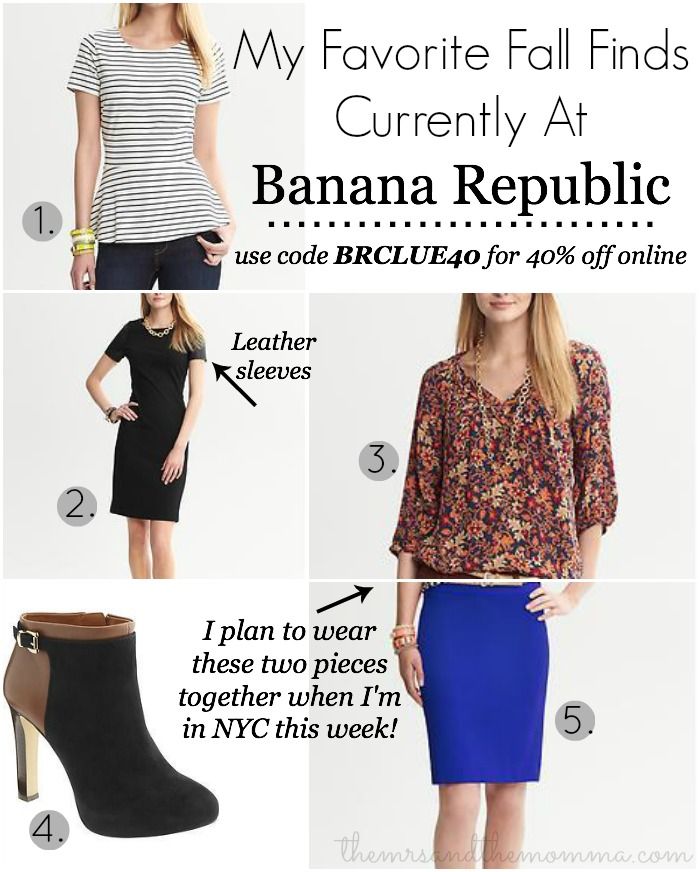 1. Striped Peplum
2. Black shift dress with leather sleeves
3. Floral flowy blouse
4. Two-toned ankle bootie
5. Cobalt pencil skirt
As I mentioned, I'll be leaving tomorrow for NYC to attend the Fashion Forward blog conference...It'll be a quick trip, but I'm excited and grate to Zulily who is sending me there! Thanks Zulily!
You can follow along with my little adventure on
Instagram, Twitter, and Facebook!