Today's BEST OF post is a little different...
And when I say different, I mean personal and biased...except for the link-up is totally the same...link. up.
You see, rather than do a style theme and pick my BEST OF selections of the week, I'm choosing to share with you the BEST OF my blogger friends...old and new...with whom I shared the experience of the Texas Style Council last weekend
(I promise, this is the last post about it...blah, blah, blah.)
If you don't already know or follow these ladies, be sure to check them out, give them a "hey howdy hey", or just let 'em know I'm talking about them behind their backs...in the best possible way of course!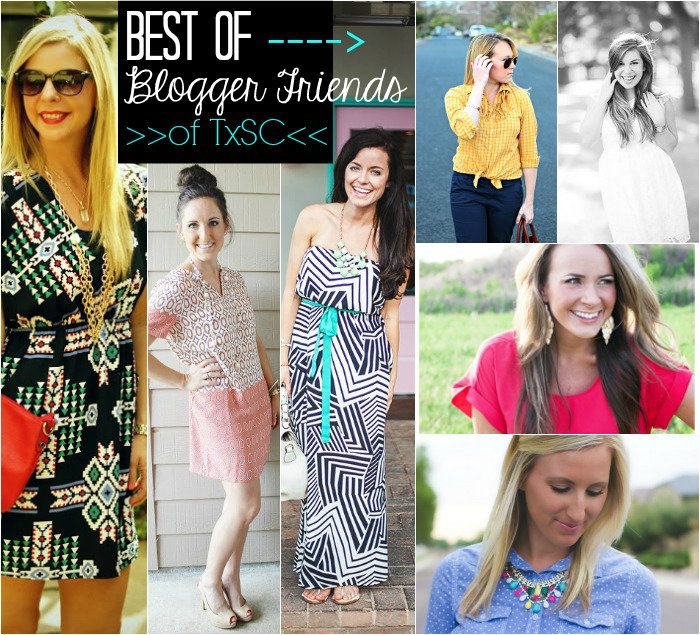 all photo credits from respective blogs listed below
From left clockwise:
>>>Shanna of Because Shanna Said So: Fellow Austinite and style blogger, outgoing, funny, great momma, always on trend, one of the most genuine people I know...she'll tell me exactly how it is.
>>>Sarah of Tucker Up: New friend with crazy relative connections to my small town, we hit it off immediately, cute little firecracker, dresses stylish on a budget...or in her case, no budget.
>>>Jenni of Story of My Life: Genius lifestyle blogger, sweet friend, phenomenal, self-taught photographer, has a way with words, first fellow blogger I met in Austin...and did I mention she's absolutely gorgeous?
>>>Britt of Secondhand Magpie: Fellow Austinite (and fellow former Lubbockite...is that even what it's called?), keen eye for thrifting, dry sense of humor which I love, great style, and nice as ever...she's also rebranding her blog soon so be on the lookout!
>>>Amanda of Amanda Marie: Amazing photographer and stylist...seriously, check out the girl's NYE wedding, the most beautiful hair and infectious smile, fellow Texan...and new friend!
>>>Shalyn of So Shay: Fellow Austinite, fellow SPK lover (if you don't know what that is...so sorry), photographer, adorably quirky, sweet as pie, and co-hosting a photography workshop with Amanda (above) that I reeeeaaaaally want to attend!!!
>>>Stesha of Classic & Bubbly: New friend and possible future Austinite, impeccable style blogger, shop owner, and photographer (if you're keeping count, that's four photographers in the bunch...these gals are crazy talented!), has the kind of personality you just want to hang out with more and more!
Well there you have it. Are you still with me? I sure hope so because I promise these ladies above are sure to bring a smile, inspiration, or laugh to your blog-reading morning!
*********************
For the link up:
1. Link up ANY and ALL style-related posts....these can be curated fashion posts, outfit posts, etc.
2. Please be a follower of
The Mrs. & The Momma
3. Grab a button or link to my blog somewhere in your post.
4. Link up your post with your blog name, not your post title.