As I mentioned yesterday, this past Saturday our family had a DAY.
We don't often have just a day free to do whatever, so we took advantage of it. First we went to McKinney Falls State Park, which is only about a 20 minute drive from our house. In getting ready to go (packing up snacks, making sure kids are dressed, diapers, etc.), and after turning around to go back home for the camera....
We got to the park and realized our 3 year old was without shoes. Both my husband and I had talked about which shoes she was going to wear, but in the mess of getting ready to leave, it just fell through the cracks. Poor thing had to walk in socks or ride in the stroller that was most certainly not "hiking trail approved."
Arriving at the "flats."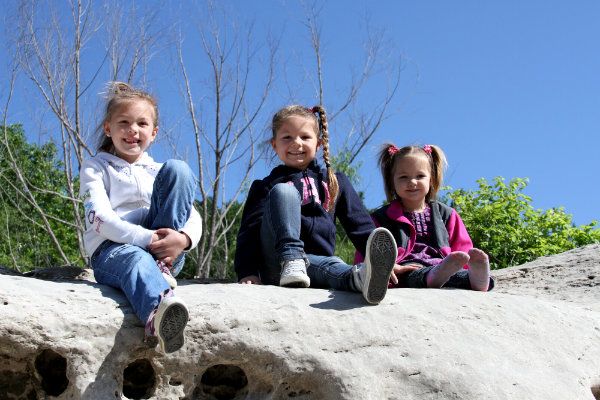 After possibly putting our children's lives at risk (only kind of kidding), we got them up on this rock....you can't see it, but there's a cave underneath this overhang.
The little guy was content in the Kelty...he's always such a trooper.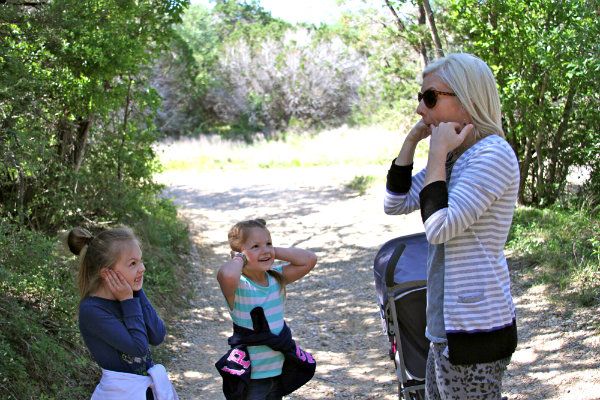 I was showing my girls how to whistle. It's a talent on which I pride myself. In our family, my kids know to come find me if they hear that whistle, anytime...anywhere. It's come in handy more times than I can count.
Helping their shoeless sister. At least it was smooth rock, bless her heart.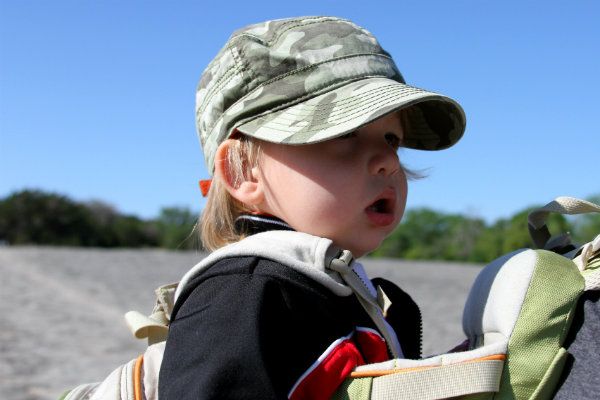 I want him to ride in this thing until he's 5....my husband however might have a weight cutoff. The thing is pretty heavy without a child in it! I've done it once and almost fell over backwards!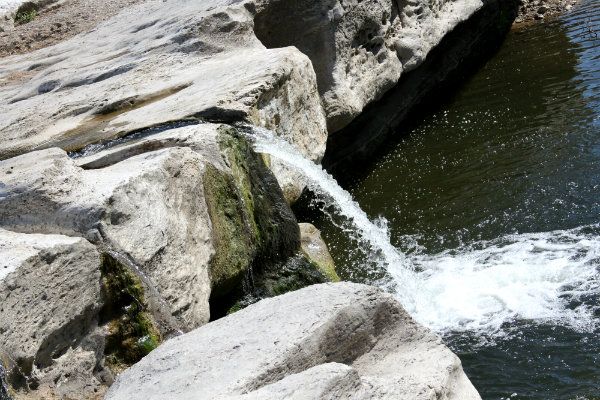 The Lower Falls
We just so happened upon a photographer there who kindly took our picture.
After the park, we headed to Central Market for a quick lunch and then to the mall to use a Build-A-Bear gift card my middle daughter got for her birthday. And do you know what the first thing we did at the mall?
Got little sister some shoes! Hopefully that made up for her feeling forgotten about the whole day, poor thing. I tried my very best to look through Forever 21, but having a gaggle of kids and husband with you isn't very conducive for combing the racks for the perfect item, is it? Nope, it's not.
And therefore, I left the mall with some MAC concealer (which I desperately needed) and a big cookie (which I desperately did NOT need).
After the busy outing we ALL took naps at home. This momma ain't a napper, but I sure slept hard. It was so nice, but naps come at a price....the price my family has to pay when I'm a bear for a good two hours after waking. And that's why I don't take naps.
Our wonderful Saturday ended with dinner at my in-laws house and a low key couples night at home.
Just perfect.
And just what we needed as a family.