The other day, my three girls spent the night at their grandmother's house. That meant just me, my little guy, and my husband had the night to ourselves. Par-tay!!!!
I had planned for us to meet my husband for dinner that evening....being that we rarely attempt eating out with all four of our children. We tend to get ugly looks, snide remarks, hissing...and that's just from our kids. So needless to say, with just one munckie (him being our easiest one by far), eating out was a no brainer. I was looking forward to it.
As we were on our way, I heard some sort of metal clink, but didn't think anything of it and called my husband to see if he'd left work yet. A minute or so later, my steering started wobbling, and I told my husband (still talking on the phone) that something wasn't right, so I pulled off onto a side road. It wasn't until after I had stopped, that I realized my hand had been blocking the alert on the dash telling me I had a flat tire! Great, I thought. My husband wouldn't be there for at least 45 minutes and it was 397.5 degrees outside.
So instead of attempting to change the tire myself (a chore in which I claim not to have skills, knowledge, or a willingness to do), the little guy and I decided to have an Instagram party while waiting for Daddy.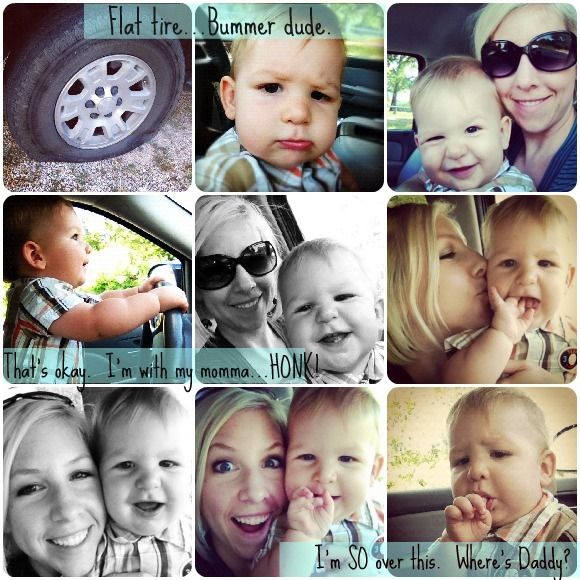 By the time everything was done, poor little pookie was pooped. So we decided to forfeit our One-Kid-Night-Out and went home to eat sandwiches. Such is life.
After getting over my disappointment, we discussed how blessed we actually were in this unfortunate occurrence....
1. that I wasn't stuck there for the full hour and a half with
all 4
of my children
2. that my tire didn't completely blowout while driving (possibly causing a wreck)
3. that the AC in my car had remarkable endurance at full capacity for an hour
And most importantly,
4. that I got to spend an abundance of up close and personal time snuggling my little man.
And that, my friends, I don't think I will ever get enough of....
Which may cause him some embarrassment starting around the age of thirteen.
But
this
Momma won't care one. little. bit.