One of the most profound statements I often think about this time of year is:
"There would be no Christmas if there had not been Easter. The babe Jesus of Bethlehem would be but another baby without the redeeming Christ of Gethsemane and Calvary, and the triumphant fact of the Resurrection." -Gordon B. Hinckley
That speaks such magnitude of the importance of Easter....the atonement, the crucifixion, and resurrection of Christ. Because HE did those things for us...for ME and YOU...He is our Savior and who we look to as our only chance for salvation and exaltation. Without all that, Christmas and the celebration of the birth of Christ would not have significance. But it IS so important because of what He did, what He would do, for us in His life.
Pondering those things this time of year always leads me to wonder about the heightened emphasis placed on Christmas over Easter. Is Easter not the whole point of it all? Yes, all the miracles and prophetic happenings surrounding Christ's birth ARE wondrous...but wouldn't it be amazing to see equal reverence and significance observed during our Easter celebrations?...And to instill in our children that huge love and appreciation for the holiday too?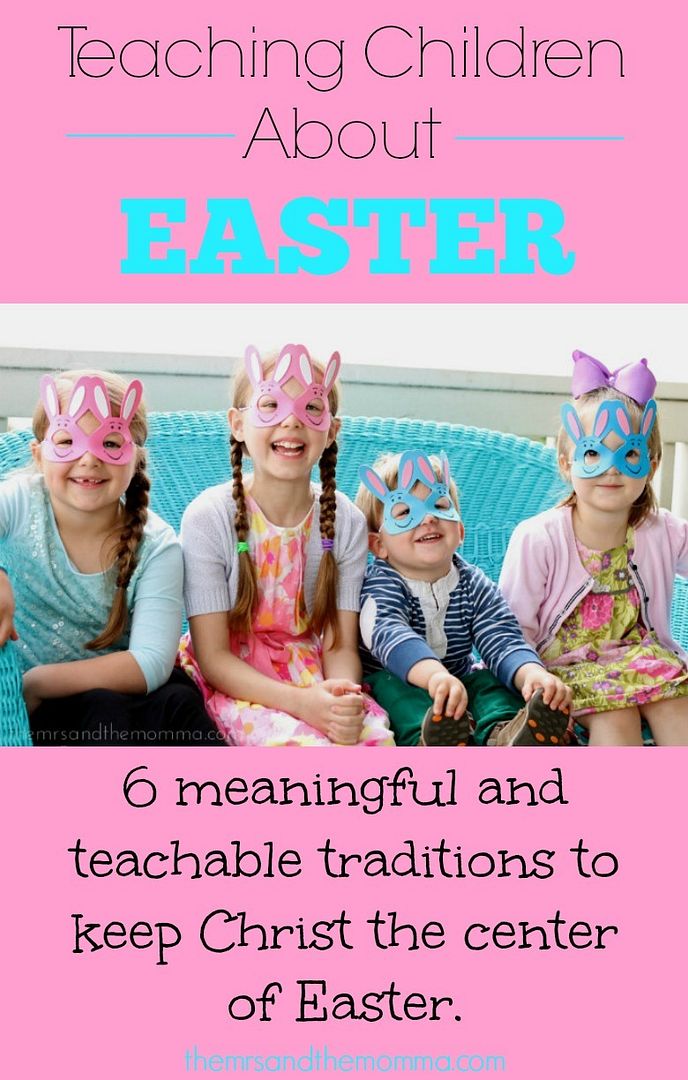 Teaching children about the importance of Easter is sometimes a challenge. Heck, grasping the full all-encompassing power of it is sometimes mind boggling for me as an adult! What I've come to learn in these almost 10 years of having little ones, is that when basics are taught to children, the spirit can fill their hearts with the rest. Developing that knowledge, understanding, and testimony is a life-long journey, which starts in the home when their hearts are young.
Here's a several ways we try to teach Easter to our children:
(a few of these ideas we borrowed from the Eyres)



Read in the New Testament about the last week of Jesus's life and act out.
This is a fun one, as the kids get to ride on the "donkey" (their daddy) into Jerusalem and turn over the "money tables" in the temple, etc.



Watch "Because He Lives" video with our family
Christ-centered Easter baskets:
This is sometimes easier said than done...but we almost always have a picture of Jesus in their baskets, along with a special gift to them, as Christ is Heavenly Father's gift to us. I sometimes fail in thinking ahead in time to make this happen, but there's always something we round up around the house we can include in their baskets.



Easter Egg Family Home Evening:
I found this one on Pinterest that I think is really doable. Symbolic items are placed in 12 eggs...which are opened and discussed as a family once all are hunted and found....printable included!



Resurrection Rolls:
We've made these as a family, but Blakely and Bennett's school also makes them during Holy Week. Such a simple object lesson for children that He is not here, He is Risen. Try out this recipe.
Family Testimony Meeting:
We normally do this tradition on Christmas Eve right before the kids go to bed...something about a peaceful nighttime sharing of our individual testimonies of Christ is super special. I'd like to start an Easter version this year, but plan to have it early Sunday morning...maybe even outdoors if it's nice. We go around and share what we know to be true about the gospel...It's one of my all-time favorite experiences with our children as we get to hear their sweet voices testify that Jesus is the Christ and that they know He loves them. What a better opportunity than Easter morning to begin this new tradition!
>>>>><<<<<
All of these activities and lessons can add to an ongoing dialogue with children about Easter. Little ones will most likely grasp that he died for us and lives again....while, older ones begin to understand how it applies to their own lives. What a blessing it is as parents to be able to strengthen our testimonies of Easter as we teach our children the basics on which they can build their own. HAPPY EASTER!
Follow me on: Instagram|

Twitter

|

Facebook

|

Pinterest

|

Bloglovin