I've been asked quite a few times what I feel is necessary and unnecessary when having your first baby. It can really be overwhelming and the world seems to be telling new moms that they need EVERYTHING or else their precious child will suffer greatly and have some kind of underdeveloped intelligence if they don't buy the "correct" teething toy. (insert eye roll) After having four babies myself, I'd like to think I have a pretty great idea of what's essential for the baby-stage...I mean, so much of it I never used or realized it was a waste of money.
So today (after having recently been asked again about my baby must-haves), I thought I'd put together some of my favorites that are not only essentials in my book, but are the best for your sweet baby.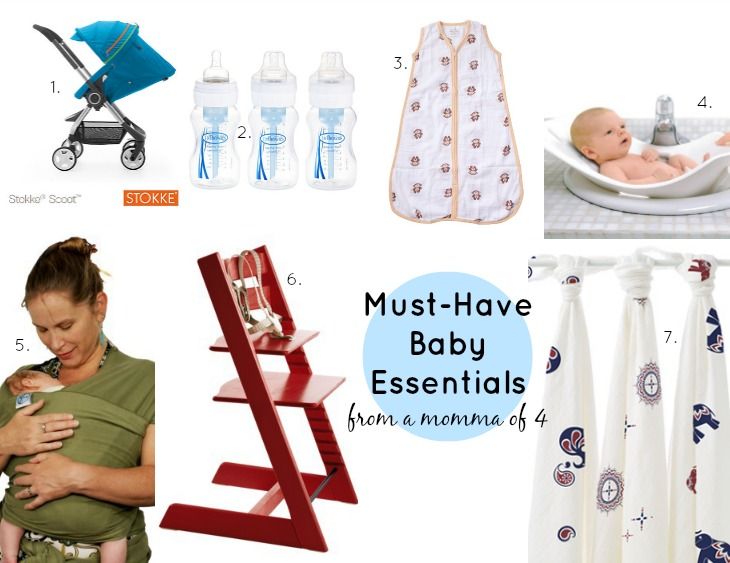 1. Stokke Scoot: I love this stroller for the ease it gives as a compact stroller and grows with your baby up to toddlerhood. It has a comfortable softbag insert for newborns!
2. Dr. Brown's bottles: I nursed all of my babies, some longer than others, but they always took some bottles whether formula or breast milk. I loved these and so did my littles!
3. Aden + Anais Sleep Sack: I didn't realize the importance of a sleep sack until my second baby, but I'm a big advocate...Ha, I say that as if it's some political movement! This breathable fabric is great to go over a onesie in the summer, and over a full sleeper in cooler seasons. You don't have to worry about them being warm enough or mess with the stress/risk of a blanket in the crib.
4. Puj Infant Tub: A friend of one of my friends started this company and I'm such a fan! The Puj conforms to your baby and the sink...perfect for those little newborn baths!!!
5. Moby Wrap: I'm a HUGE proponent of baby wearing and I loved my Moby. It takes a little practice to get it wrapped correctly, but once you get it, you'll love it! The best thing is the weight distribution. No sore backs from carrying a 20 pounder! Also, there are so many different ways to carry. FAVORITE!!!
6. Stokke Tripp Trapp: We have loved using our Tripp Trap! It's designed ergonomically for babies and children to sit with their feet supported. It grows with your children up to any age. They also have a seat adapter for smaller babies, but even without the adapter, the five-point harness works like a charm.
7. Aden + Anais Bamboo Swaddling Blankets: Okay, so I know you think you've seen these swaddling blankets everywhere, but I think you're wrong. :) These are the bamboo ones that are SUPER-DUPER soft....I mean, I want one just to have for myself! Such a versatile blanket for nursing, carrier cover, swaddling, burp cloth, etc.
If you have your own Must-Have Baby Essentials, please leave them in the comments so others can benefit from your suggestions! What did I leave out???
>>>Make sure to be on the look out for my Must-Have Toddler Essentials post next week!
Follow me on: Instagram|

Twitter

|

Facebook

|

Pinterest

|

Bloglovin