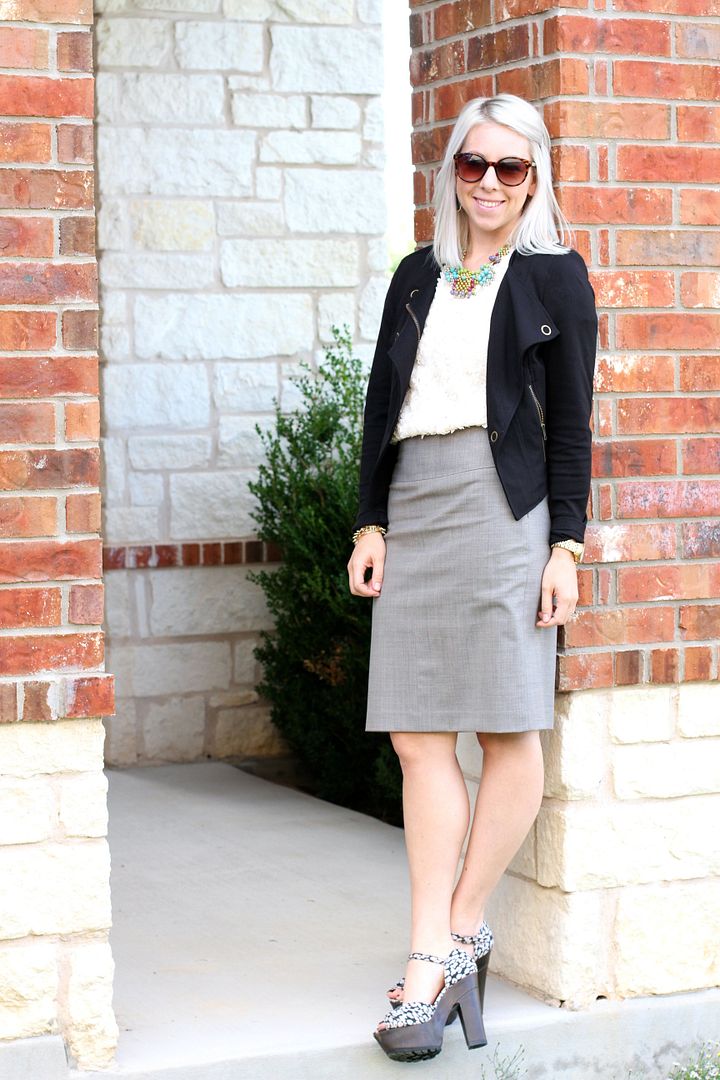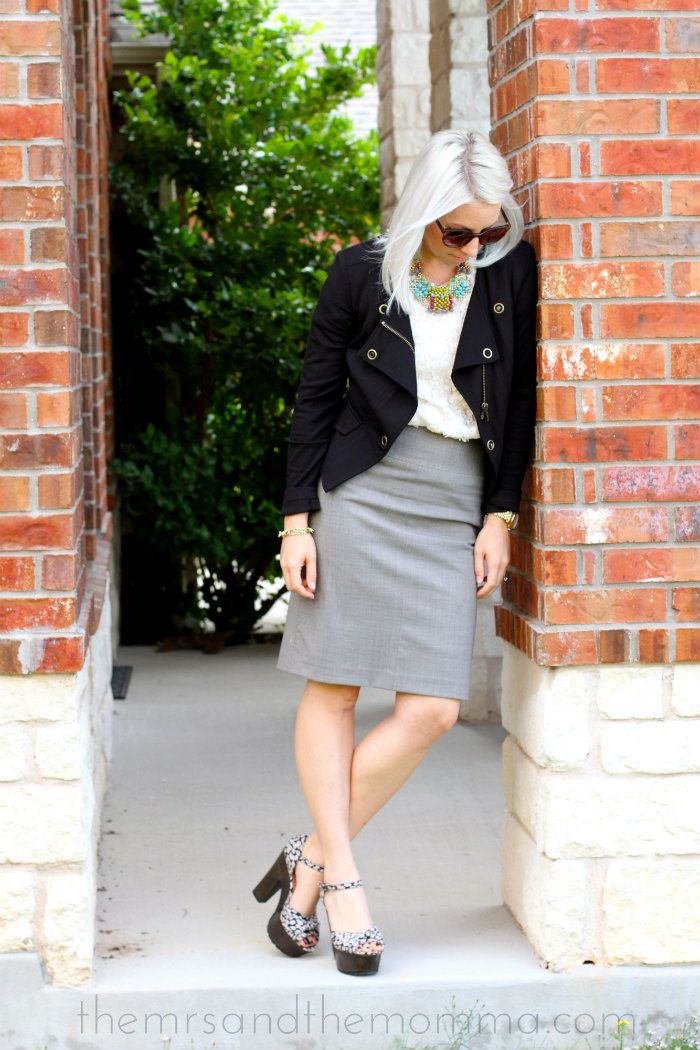 Outfit Details:
Blouse: Anthropologie (exact) (I featured the black version here)
Jacket: CAbi (exact) or (similar)
Skirt: Banana republic (similar)
Shoes: (similar) DSW
Necklace: c/o Noonday Collection (exact)
Here's what we didn't do this weekend:
-Put up Christmas decor...seriously, something is wrong with me. First I was all apathetic about Christmas music (gasp!) and now it's four days into November and Christmas decorations don't have any appeal to me what-so-ever. Completely out of character. I think I need to go have my vitals checked.
-Take successful family photos for our Christmas cards. Yesterday morning, contemplating our plans after church (going to my parents' house as we always do), I thought, "hey, why not try and get our pictures done today? It's pretty out there and we've got to get this done pretty soon." Well, in the course of the next 10 minutes, I threw together coordinating outfits with whatever I could find (my color palette was gray, cobalt, black, navy, and cream) and off we went. Shame on me for thinking this could be a last minute decision. This week, I'll be shopping for official "picture outfits" for a re-do.
What do you think of the color scheme...should I stay with that one?
(And Mommy, if you're reading this, our failed attempt in no way had anything to do with your stellar picture taking abilities.)
-Stuff ourselves with Halloween candy. I told the kids that today I'm donating it all...evidently our local dentist pays by the pound! (I'm suspicious this may be a rumor, but that's not stopping me from showing up with a bunch of candy asking for money.) Surprisingly they were completely fine with it. No whining, complaining, or detachment anxiety from losing their precious candy. Oh and as a side note, we're cutting out sugar starting today. Yikes! More to come on that later.
Wish me luck!
#ikeptsomeofthecandyformomma
#donttellanyone