Happy Friday!!! Today the BEST OF link up is back!!!! Hip, Hip, Hooray!!!
Every one loves a good hat, right? Spring and Summer are the perfect seasons to sport a hat (head wraps are my jam, too) because our hair tends to be less coiffed, whether it be due to humidity, post-swimming, or oiliness....
And hats fix all of those things (from showing, at least)!
I've mentioned before my aspirations to petition the government to pass a law requiring facinators and hats to be worn at all weddings, right? Yeah well, tomorrow we're attending a good friend of mine's wedding in Dallas and I'm sadly without a fancy, posh headpiece. Dallas of all places...I'd fit right in!!!
Well, I'd have to get my hands on one first. Dang it. Maybe I'll just talk in an English accent and call it good.
This week's BEST OF picks feature bloggers after my own heart, as I think I have almost each one of these styles of hats in my closet.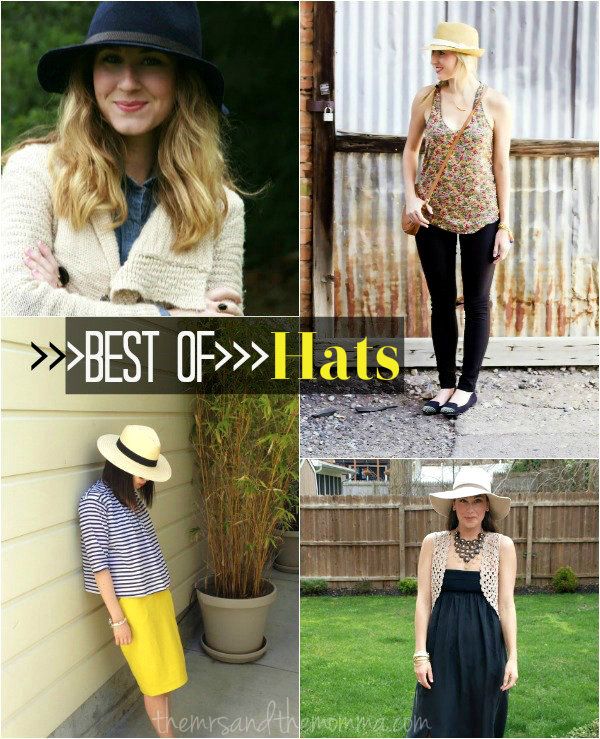 Counter clockwise from top left: Think Twice Style//What Helen Wore Today//Thirty Something Fashion//Classic & Bubbly
Some of my favorite hats that are in stores now:
Now it's time to link up your style posts of the week!
Here are the rules:
1. Link up ANY and ALL style-related posts....these can be curated fashion posts, outfit posts, etc. They do NOT have to be in line with the BEST OF theme of the week.
2. Please be a follower of The Mrs. & The Momma.
3. Grab a button or link to my blog somewhere in your post.
4. Link up your post with your blog name, not your post title.