Happy Valentine's Day!!!!
Today is about making heart shaped pancakes, writing love notes, and attending my girl's Valentine's party at school. No "couple" plans tonight, but hopefully tomorrow our plan to eat out at one of our favorite restaurants will hold up.
What are you up to this LOVE DAY?
So to express my luv, I thought I'd share a little something I've made several times now for a healthy snack or lunch, with which I'm totally in luv. Each time I eat this little concoction, I congratulate my taste buds on getting to experience all these wonderful flavors at once!
Yum to the max!
(
yeah, I said yum to the max
.)
Slice up half of a sweet, juicy, ripe pear (or the whole thing if you're hungry).
Get 'cha some goat cheese and roughly chop a handful of almonds
Pour some honey over it all...be generous with this, as the sweetness will counter the tangy goat cheese.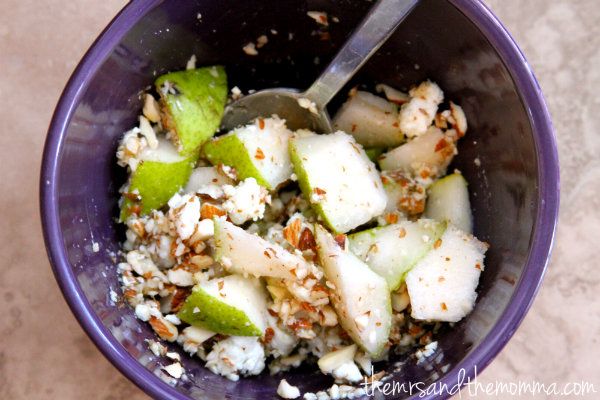 Stir and combine. I like to add some cinnamon (not pictured) and sometimes stir in a couple tablespoons of plain Greek yogurt (not pictured). Enjoy!
***********************************
So tomorrow is the big day. My first Friday
Best Of Style
Link Up!
Come check out the week's best of style posts and link up your own favorite of the week.
Grab a button!