Being a blogger, online relationships are the norm. I mean truly, I'll most likely never meet most of my blog readers (aside from friends/family I already know), nor ever meet bloggers I follow.
But on occasion, when the stars are aligned just right.....
Bloggers meet.
In real life.
For real.
Like face-to face.
And can hug it out.
I've been privileged to meet fellow bloggers before at last year's Texas Style Council, but until this past weekend, I'd never experienced a
blate
(blogger date) with people I already "knew". Thanks to
Jenn
(and to my husband for urging me to go), I got to meet up with all these ladies at Doc's on South Congress for a late lunch. It was so much fun to talk in person and get to know them conversationally....you know, as opposed to just talking to them on my computer screen. :)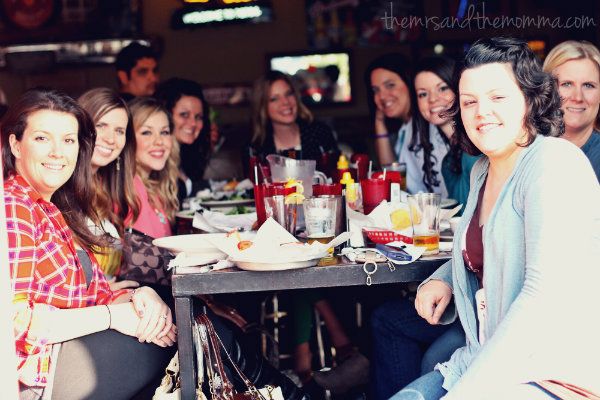 Jen, Sar, Stephanie, waiter photobombing, Savanah, Shanna, Emily, Sarah, Allison, Tara
I loved meeting
Sar
(left) and really want to get to know her better....
And
Stephanie's
(right) eyelashes are just to die for! I need her secrets!
Shanna
and I were well acquainted before we met. After an attempted rendezvous at the Texas State vs. Texas Tech football game this past fall, we finally met. She's just awesome and I loved how easily we chatted it up!
The word on the street....er, I mean on the blog....is that there's gonna be another one of these get togethers in a few months. I can't wait!
***
Make sure to enter my
Shabby Apple giveaway
going on right now!
As of right now, the chances are looking pretty good for ya!