I am postponing the post-Halloween post....
(wow, I am really talented. you see how I used that word 3x in one sentence?)
...Until tomorrow after I've had some time to edit pictures. I got some good ones, but my munchkies didn't seem to want to stay still. I guess I can't blame them....aggravating their momma and getting free candy is much more fun!
So today, I'll just leave you with an outfit post from what I wore to church last weekend.
I've come to really like this navy/white
striped shirt
from GAP, even though it fits a little large. Because of the fit, I've been able to layer under it and kind of utilize it as a sweater. Also, I don't have to worry about the natural shrink up that most cotton knit shirts fall victim to.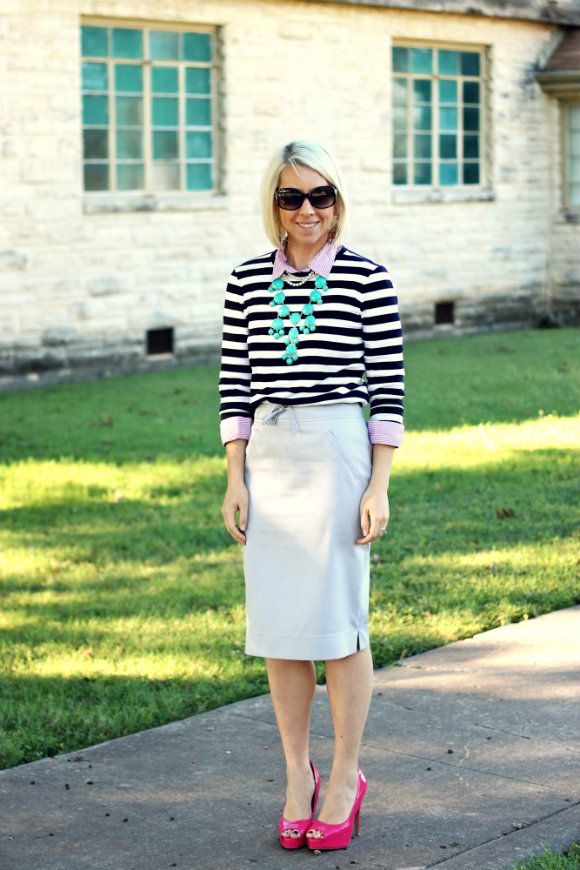 On another note, I'd like to know what people do with all their Halloween candy.
Do you keep it all and gradually eat away at it until Easter candy floods in 6 months from now?
Or do you freeze it?
Or do you gorge yourself on candy now and throw the rest away, with the rationale that you'll eat less in the long run?
Or do you just keep your favorites and treat yourself whenever you get a sweet tooth?
I think I lean towards the last one, but no matter what we decide to do with the candy, I try my best to limit my kids' candy intake. I know sometimes it's futile (like last night), and I don't completely deprive them....
But I've found what works best after these types of holidays is "out of sight, out of mind."
Until they hear the crackling of the Twix wrapper their daddy is sneaking.
Then all bets are off.
shop this look: