I'm really excited to be doing something new today! Over the past couple of months, I've written blog posts titled "High 5" made up of five thoughts that center around a certain topic....for example:
thankfulness
,
motherhood
,
family time
, and most recently the
Texas Style Council
.
So in continuation of those posts, I want to include others as well. I've decided to officially make it a party! My plan is to encompass any and all topics that relate to The Mrs. & The Momma, and post about them in a numeric 1-5 format (making lists is what I live for). Because I'm starting this series on a Friday, why don't we make the first topic "
High 5: My Weekend
"? Feel free to post about anything weekend oriented...your plans, your to-do list, your hopes, what you did (or didn't do) over the weekend, what you wore, etc. I always love getting little glimpses into other people's true lives, so this will be right up my alley.
~Be sure to link up your High 5 post below
~Grab and include this button in your post
~Check out some of the other links and make some new friends!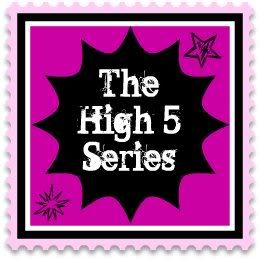 Here we go to start it off... High 5: My Weekend:
1.
The Hunger Games!!!!!
Not only are we going on a date (rare occurrence).....and not only are we seeing it the day it comes out....but we're viewing it at the
Alamo Draft House
, where they serve dinner while you watch the movie. This place also has sing-alongs, quote-alongs, you name it....a pretty classic Austin spot. My absolute favorite are their straws. My husband still makes fun of my reaction the first time I sipped a shake through their humongous straws....I was so excited to get all that goodness in my mouth at one time without having to strain myself. Pure heaven.
2.
The Star of Texas Rodeo
-One of the Christmas gifts I gave my dad was for him to have his pick of concerts at the Austin Rodeo. He picked Kevin Fowler, which so happens to be the closing night of the rodeo this weekend. I'm really looking forward to some daddy-daughter time with him. Someone told me the red velvet funnel cakes are to die for....I'll have to report back on that one.
3.
Plan my second daughter's "Dispicable Me" birthday party
-This is a big deal for three reasons...first, I'm about two weeks behind on planning because invites needed to go out yesterday, and second, she is very particular on whom she wants to included. (*close friends, please do not be offended...this girl is stubborn and immune to my persuations on an invite list.) It shouldn't be that hard to plan if she only wants two friends plus family there. And third, turning 5 is epic. I found these on Pinterest and think they will be a hit!
4.
Closet makeover-
I don't have a
working closet
. I want one. One where I can walk in and walk out two minutes later dressed in an outfit that I'm happy with. We're on a budget, so my goal is to spend less money on clothes and spend more time on re-mixing my wardrobe. Um, yeah, we'll see how it goes.
5.
Sleep
-Over the past month, I guess I've been trying to keep up with my husband's late hours and have consistently stayed up past midnight....then waking up to my two-year old demanding her sippy cup around 6AM. He said waking me up is akin to getting a teenage girl out of bed. My end goes something along the lines of:
"Go away! The kids can cook their own dang breakfast! I don't care if she oversleeps for school! I need to oversleep! Stop ripping off the covers! What's my name?"
I can only go so long like this. Even as I write this post, the words are slightly moving around on me. Yeah, you're right...I'm gonna call it a night right about now.