I'm a Texas girl through and through, born and raised, 6th generation...you get the picture. Sometimes I wonder how I'd fair in another state if we ever moved. Here in Texas, we're "indoctrinated" (as my friend Natalie likes to put it) on all things Texas and just southern hospitality in general. But food is where I truly feel my Texas pride and roots come out...we really do have some AMAZING food here, especially in central Texas. From our Tex-Mex, to BBQ, to Austin's eclectic varieties and locally made artisanal eats...we have it all!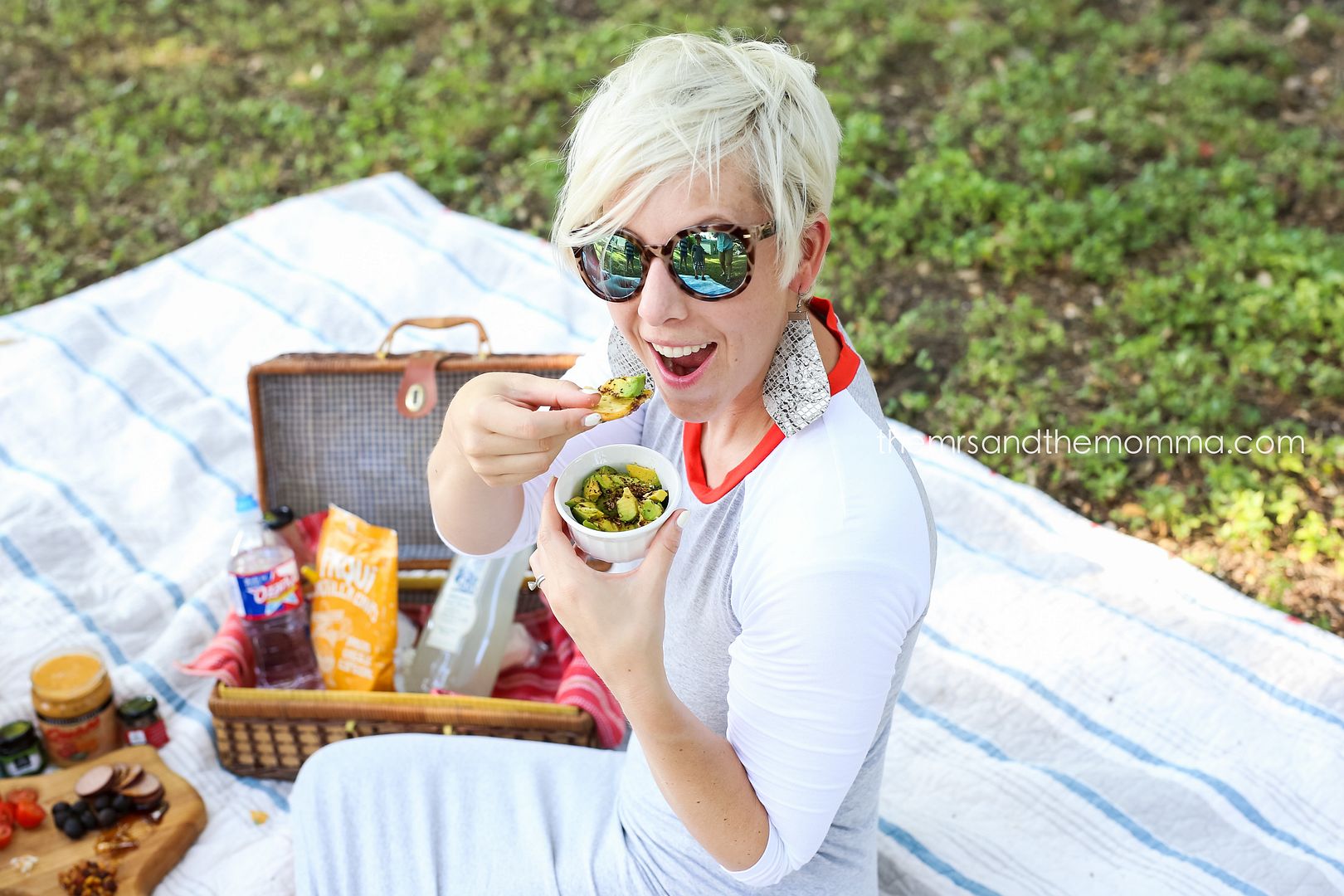 This summer, our family is staying around these parts...meaning - no big vacations except for short ones to the beach or road trips within the state (we plan to head up to Waco/The Silos soon). We've even done a few small excursions down to our local creek spot for a picnic and swimming (all the creeks and rivers are nice and full from the rains we had, but drying up quickly). Primarily, I just want some concentrated and focused family time, which in my opinion, is usually best when done around food...and I love that we have so many options around us in Texas, especially in our small town.
The other night we took some snacks to the creek and made a little evening of it, hanging out as a family, playing around, and enjoying some time together after Daddy got home. I'm kind of on a charcuterie board kick lately (anyone else?), so I thought...Hey, why not try to make a Texas Charcuterie board!?! It was SO yummy and the kids (surprisingly) ate it all up! We used several "local" brands to enhance the Texas tastes (and because supporting local is always the way to go), which made it more of a foodie adventure for my kiddos, taking taste-risks if you will. Not only was it an easy on-the-go meal, but we had a blast sharing food together and making memories!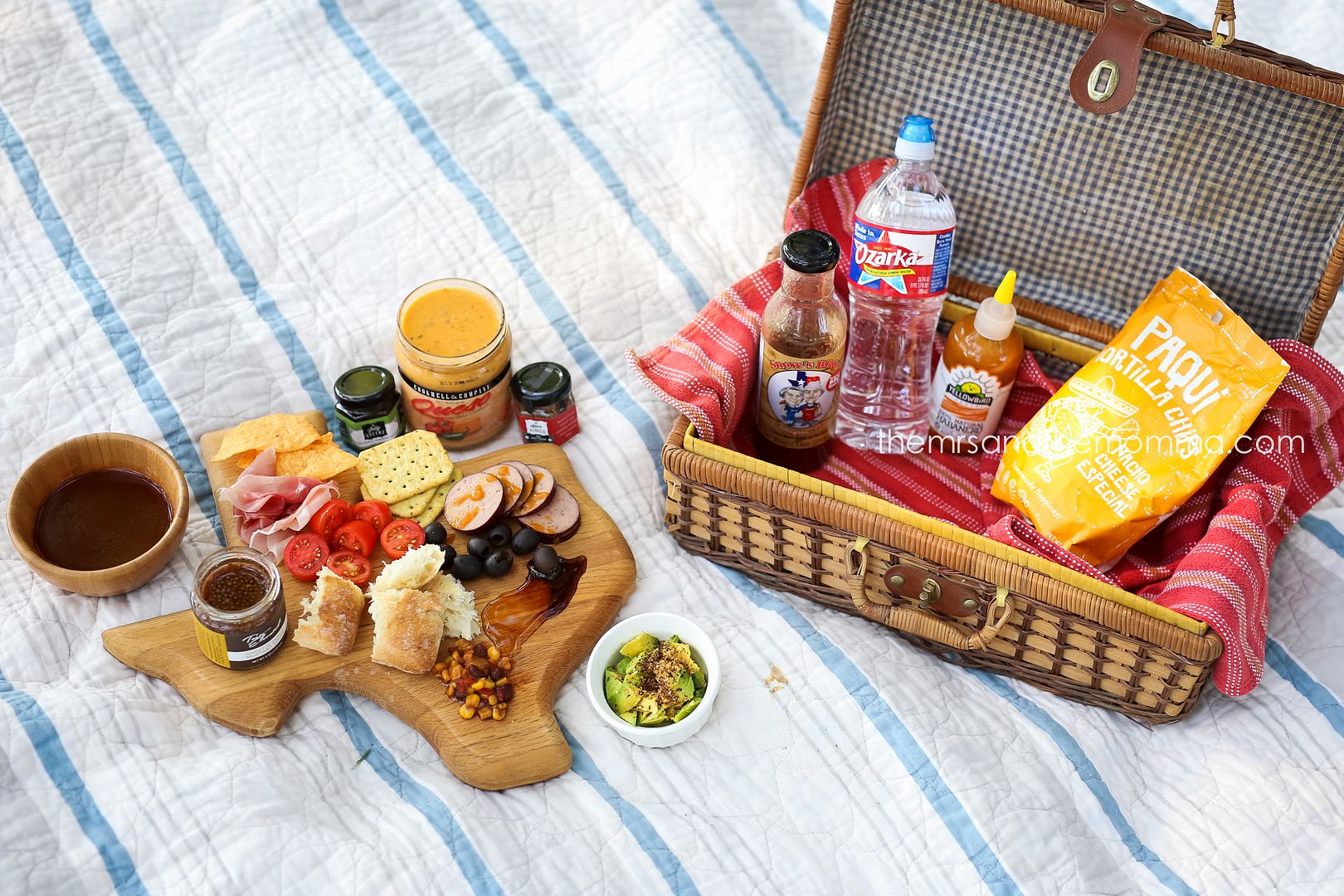 For making your own Texan Charcuterie Board
, here's the ingredients I used:
(
most are local to Texas...and I linked where to find them
)
Texas shaped board (optionally obviously, but hey I'm sucker for a theme)
Ozarka Spring Water - easy, on-the-go flip lids and Ozarka water is our favorite because of it's unique Texas fresh taste, coming from 3 natural springs (Ozarka direct)
Paqui Tortilla Chips - Natural ingredients, unbleached/untreated flour, YUMMY
Any type of bread - tear in pieces
Home-grown cherry tomatoes - my tomatoes wouldn't grow this year, but my mom has tons
Summer sausage - Trader Joe's turkey sausage is pretty darn good, and dare I say, on the healthy side?
Diced avocado with The Spice Kings seasoning - gives a nice little smoky flavor, organic and locally grown
Snow's BBQ Sauce - for dipping, use on any meats, Texas Monthly's "best in TX"
Yellowbird Habanero Sauce - drizzled over summer sausage, made in ATX, love how natural this sauce is ingredient-wise
Cowboy Caviar - another Texas fave I eat on everything
Black olives - double yum
Crackers - build your flavor combos on crackers or the bread
Prosciutto - the perfect meat base for all the delish condiments
Jelly Queens jam - yummy, unexpected taste, nice compliment to the honey
Local honey- HEB brand, a must for any charcuterie board
Sweet & Spicy mustard seeds from Taste Elevated - this can go on ANYTHING, and totally addicting as a condiment
Cookwell & Co. Queso - for dipping, great blend of authentic tastes with a bit of a kick
What do YOU love about where you live?
*Sharing our family adventures is what I love, which is why I've partnered with Ozarka Brand Natural Spring Water on their initiative across Texas telling why I love where I live. All opinions and views are my own.
Follow me on: Instagram|

Twitter

|

Facebook

|

Pinterest

|

Bloglovin