As part of our homeschooling end-of-year field trip extravaganza
(yes, I'm a bit behind)
We visited the Texas Capitol building and grounds. I've been there several times before for various things, but experiencing it with my youngest and oldest two kids put a different spin on the beauty and history.
After exploring the gorgeously manicured grounds and fighting off squirrels bent on attacking us for food, we headed inside. Several of the staff members were so courteous as to give us a few pointers in our tour...so of course, I'm going to share those with you today in the event you and your little ones ever venture to Austin...
The Capitol is a must-see!
1. Yell in the Rotunda! Yes, it's allowed and actually encouraged. It's so fun to hear the echo and makes the little ones giddy that they can actually shout in such a proper place.
2. Head upstairs to either the Senate or House chambers. Not only are these rooms significantly historic, but have HUGE paintings of Texas figures and history, such as battles from the Texas Revolution.
Did you know??? Texas is the only state in the union that can become its own country if it ever so chooses to do so again?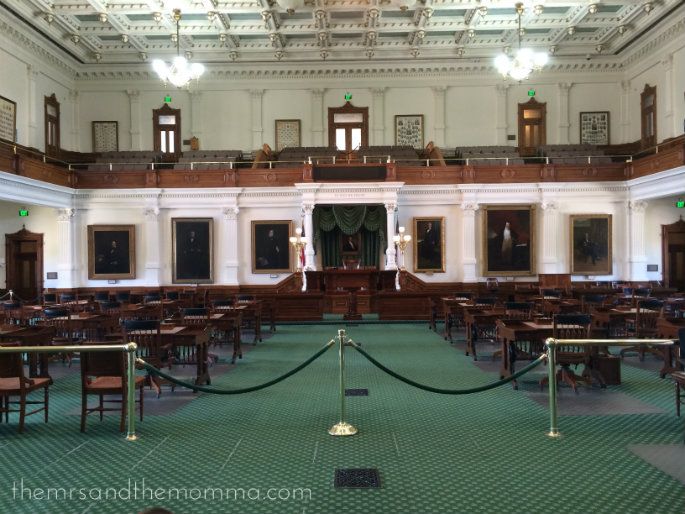 4. It's all in the details...the Texas star is everywhere you turn. This can be a fun little "scavenger hunt" type of activity for your kids to try and find as many as they can! (Door knobs, door windows, carvings, etc.)
5. Head to the library to walk on a glass ceiling and check out Santa Anna's tiny little desk. (He had to have a specially made one when held prisoner because he was too small to use regular size desks. He was under 5 feet! Talk about a Napoleon complex!)
6. Take in the beauty. The architecture of the State Capitol is just magnificent. Tyler Bree and I talked about all the notable and historic people who had walked the same steps as we were. Makes me proud to be a Texan!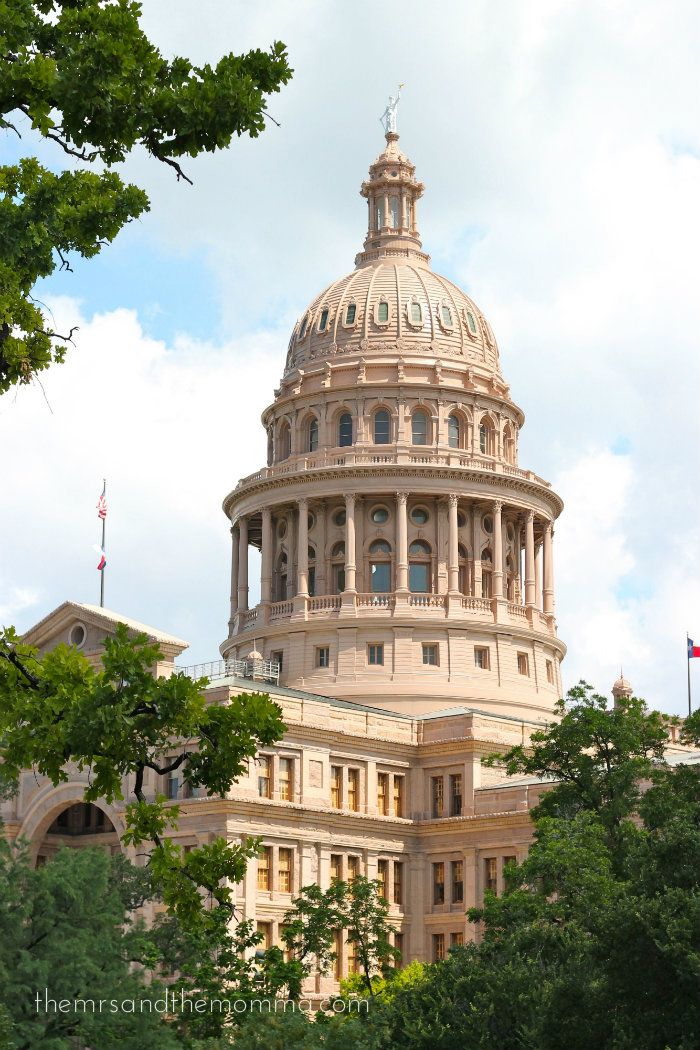 7. After you're done with the Capitol, walk over the castle-looking building for some especially-for-kids stuff. The littles can try on period clothing, sit in an old saddle, use interactive media, and get their hands on all sorts of cool Texan things!
>>>>>>>>>><<<<<<<<<<
The Texas Capitol is right downtown, so whether you're visiting Austin or a native to the area, after visiting the Capitol, you're in a prime area to go from there...great restaurants around, cool parks, Austin shopping...all within walking distance!!!
And one last thing...
When visiting the Capitol, always remember,
Nobody Messes With Texas.
What's your favorite thing to do with kids around Austin?
Follow me on: Instagram|

Twitter

|

Facebook

|

Pinterest

|

Bloglovin