Well, I'm about a month into my Accutane treatment and I've started to feel the effects of the typical dryness associated with the medicine. To give a little back story, I've wanted to get on Accutane for a loooooong while. I'm sick of having acne in my thirties...I mean, come on. I joke that if I have to live with both a flat chest AND acne that I should be able to do something about at least one of them...and maybe take care of the other later on. (wink, wink)
My skin in normally very oily, so I've never had to educate myself much on a decent moisturizer...I've always just used ones with a high SPF and called it good. Even thought I'm not yet fully in the trenches of the dryness, I've been proactive in my skin care regiment to counter the effects. My lips are the main culprit so far.
If you have dry skin or are maybe taking Accutane currently, I thought I'd share what I've found to be my favorites in keeping my skin moist and healthy looking. These are all drugstore finds and seem to be working spendidly for me so far!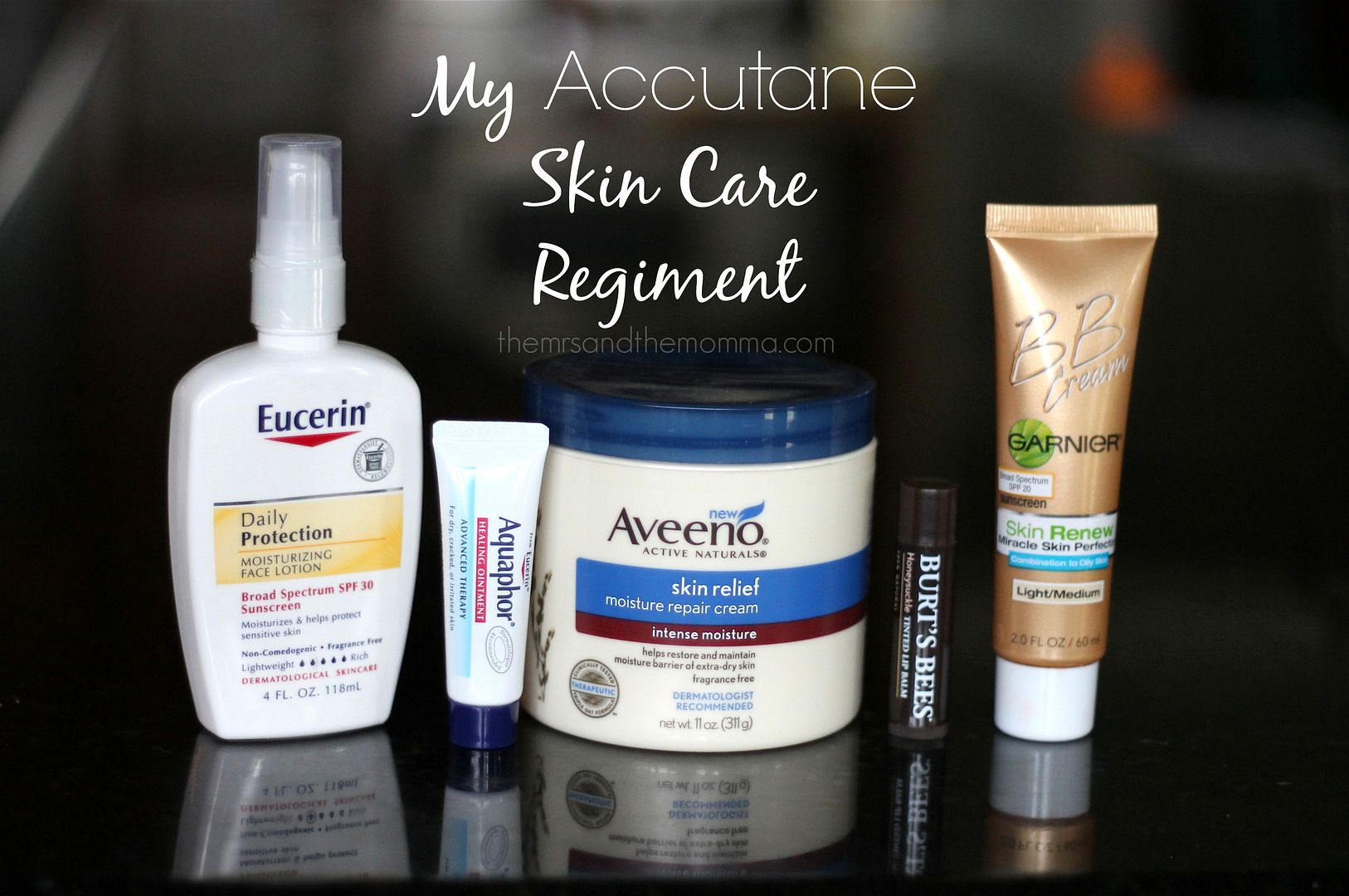 left to right:
-Eurcerin Face Lotion: The biggie here is the SPF since my skin is SUPER sensitive to the sun while on Accutane.
-Aquaphor Healing Ointment: I have a tube in my car and one in my bathroom...it's on my lips 24/7. I think I'll be a fan for life.
-Aveeno skin relief cream: I use this at night. It normally would be WAY too much for me (and I kinda get the heeby-jeebies putting in on), but it's perfect for that intense moisture.
-Burt's Bees Tinted Lip Balm: Gives a little color and feels nice on my dry, flaky lips.
-Garnier BB Cream: I mix this with the daily moisturizer to give my skin some coverage...then I don't wear any other make up on most days. It's nice to have that freedom and flexibility.
I'll make sure to post an update in about a month or so to report on how these products are still serving their purpose. Who knows...this may be the worse it gets for me...but I suspect not. I've heard it gets pretty bad.
Have you taken Accutane???
And if so, which skin care products worked best for you?
Follow me on: Instagram|

Twitter

|

Facebook

|

Pinterest

|

Bloglovin