Happy Monday Y'all!!!! I hope you had a fabulous weekend...raise your hand if you're enjoy some cool Fall weather already!?
Not raising hand.
So you know how I mentioned that Zulily sponsored me getting to the Fashion Forward conference last week? Well, this week, they have something really exciting going on that I'm honored to help them promote....it's called Trend Week, and what's so cool about it is that they're offering special deals each day of this week pertaining to a specific trend. For example, today kicks off Trend Week with "All About Leather"....and guess what??? Not only do they have fabulous looks for women, but there are corresponding daily kids trend events this week, too....so cute!!!
When I was up in NYC, everyone I talked to about Zulily just gushed about how much they love the site. One girl told me she always does her shopping there when riding the train in from work...now that's time well spent! If you haven't yet acquainted yourself with the site, head on over to see what its all about. I promise, you won't be disappointed!
....................................
Here's the line-up for Trend Week for your reference...I'll tell you my favorite at the bottom of the post. :)
Monday: All About Leather (Here's your chance to get a great deal on this must-have trend!)
Tuesday: Into the Wild (Animal Prints)
Wednesday: Poised & Polished (Feminine and Posh looks)
Thursday: City Chic (Black/White color combo that's so on trend right now.)
Friday: Modern Gypsy (think Boho chic)
Saturday: Faux Fur (Nothing says fabulous like fur does.)
*Monday's "All About Leather" discount is up to 65% off!!!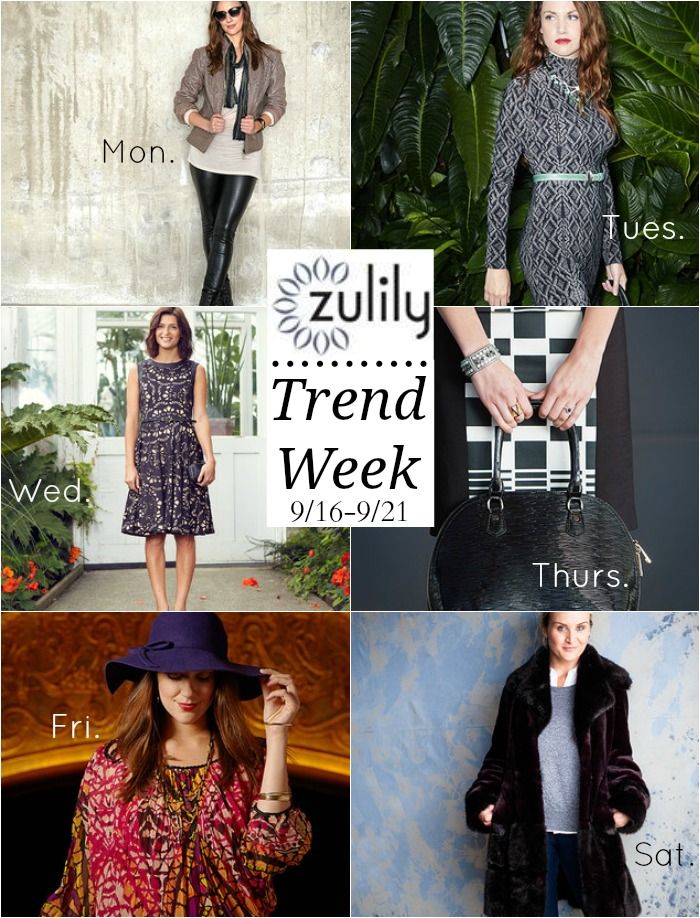 Aren't these amazing?!!
Okay, you ready for my favorite?....
I just adore the looks they have in store for Tuesday! Do you see that long-sleeved sheath dress up there? I mean. I've been looking for a good long-sleeve sheath for a while now (ever since the spread of them I saw in People StyleWatch mag) and this one is right on the money. As close seconds, I'm super pumped about the leather deals today as well as the boho/gypsy looks on Friday!
What are your style favorites???
Check out the coordinating kids trend looks as well...aren't they just adorable? I could see all of my daughters in any of these outfits...just darling!
*Monday's Edgy & Sweet discount is up to 60% off!
Please make sure to check back with Zulily every day this week to see all the Trend Week deals...and score yourself some exclusive Fall looks with these fabulous on-trend deals!!!! Happy Shopping!