At any given point in the day, during which my children aren't occupied with chores, choreographing dances to Taylor Swift, bickering, Barbies, painting the bathroom counter with toothpaste, or asking for snacks...at least one of them (excluding the 2 year old) is asking for a turn with my iPad. Even though I try to limit their "plugged-in" time, I've decided that playing with apps that are well-planned, well-researched, and well-thought out specifically for youngsters is on the far lesser end of the "my kids won't have any people skills because of technology" spectrum.
I thought I'd share some of their favorites (and my reviews of them).....And just as a disclaimer, these don't necessarily fall under the "education" category, but still promote eye/hand coordination, thinking, listening, etc....not to mention some quiet time for momma.
(I'll have to do an educational "top 5" list next time!)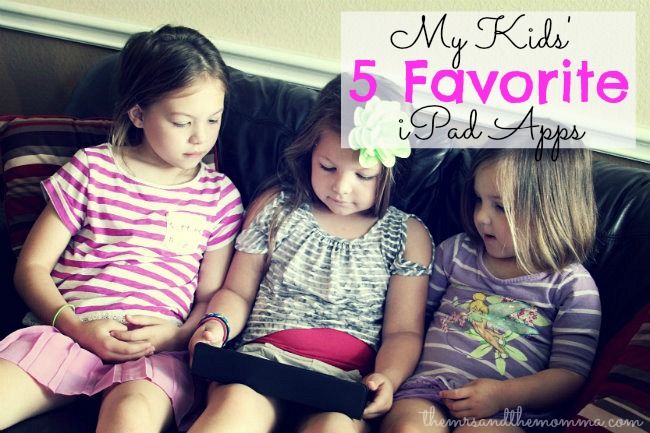 1.

Letter School:

My 3.5 year old loves this one. It goes through the letters and sounds, but more importantly, it has the child trace the letters correctly and while doing so makes it interactive, such as making a train track in the shape of the letter, and once the letter is completely traced/drawn, a train will come out in the order of the strokes used to make the letter. It then repeats the process with a few other neat actions. My verdict-4 Stars
2.

Art Nail Salon:

Let me just say that this app is even addictive for a grown momma. I sit with my girls and think up all types of ways to decorate these 5 blank slates of toenails it gives us...using all sorts of medium and creativity. When you're done, you even get to pick out a flip-flop or sandal for the foot to wear! My verdict-5 Stars
3.

Kids Doodle:

This is a pretty basic drawing/coloring/painting app using various brushes such as neon/glow, rainbow, crayon, etc. My kids' favorite thing about this app is the movie mode that plays back the drawing steps just like a movie so they can see exactly how they created their masterpiece. And then start all over! You can also import pictures to "draw" on, although we haven't tried this out. My verdict-3.5 Stars
4.

Minnie Puzzle:

Being the Disney fans my girls are, they love most anything with two black ears especially if it has a pink, polka-dot bow! This app gives them over 20 different Minnie jig-saw puzzles to choose from, and allows them to choose three levels of difficulty. Once the puzzle is completed, it turns into a little Minnie video. My 3.5 year old is especially a fan of this one! My verdict-4.5 Stars
5.

Pan, The Fearless Beribolt:

We were sent this app from Hullabalu and my girls have definitely taken to the unique story, the cute Panda, and interactive story telling. It kind of reminds me of the "Choose Your Own Adventure" books where the reader is given the power to guide the story...remember those? It appeals most to the two oldest girls, as they can read along with the words, facilitating more understanding...the little one enjoys just moving things around with her fingers. My verdict-5 Stars
***And honorable mention would be the Disney Junior app (since we don't have cable), where they can watch episodes of Sophia the First, Mickey Mouse Clubhouse, Doc McStuffins, etc. This is a HUGE treat for them!
I think a good app for kids has to walk a fine line of being intriguing and unique, yet easy enough for them to self-navigate...as well as being fun, of course!
Do your kids have any favorite apps they enjoy???